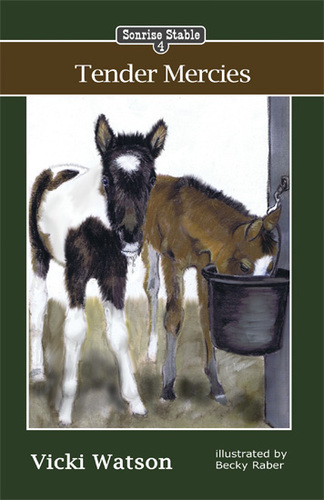 About The Book:
When Rosie, Carrie, and Grandma are asked to help out at Last Chance Corral, a nursemare foal rescue, Rosie is shocked when she experiences firsthand how cruel some people can be to animals. During the week at Last Chance, the girls learn that the God who knows when a sparrow falls to the ground works through the kindness of others to provide for the animals He created. For the foals, and the girls, Last Chance Corral is a life-changing experience.
Tender Mercies
is the fourth book in the Sonrise Stable series, heartwarming stories of an extended homeschooling family as they live, learn, and love together. Mixing adventure, life lessons, and realistic horse experiences, the series is a must for readers who enjoy family values, Christian faith, and, of course, horses!
My Review:
Tender Mercies
starts out with the wonderful view from a colt. He has eyes for only his mother and a nice boy that takes care of him. The boy brought the colt and his mother out daily to get exercise and brought them back in at night to keep them safe. But one night the boy is awakened by the sounds of whining horses. He runs to the stall where the colt he named Sparky stood all alone, his mother taken from him. What lays ahead for this poor colt?
Rosie and Carrie watched as Grandma paced back and forth talking on the phone. They begged her steadily to tell them whats going on and when she finally does they barely can contain their excitement. They head out the next day to the Last Chance Corral. A place where horses and foals a like are taken good care of and raised properly. And now Rosie, Carrie, and Grandma will be helping there. The lady that owns the place is getting six new foals, ones of which Rosie and Carrie wants to take home. But they cant, they are here to help her with the new foals she is receiving. But this job isn't all it cracked up to be. Will they make it through this long week or just give up?
About The Author

(Vicki Watson's own words)

:

My love of horses began when a teenage neighbor offered me my first ride, on the back of her horse. From my 8-year-old perspective, it seemed like the biggest horse in the world. From that moment on, I was addicted. Horses were to become a very important part of my life, although I never could have imagined, at the time, how much God would teach me about Himself and my relationship to Him through these wonderful animals. The Sonrise Stable series combines my love of God and horses in stories that I hope will help children learn more about both. I have a vision for ten initial books in the series, taking the main characters through one year. Beyond that I'll see where God leads me. I have been blessed with three daughters and homeschooled each of them through high school. I enjoy trail riding my Rocky Mountain mare, Nikki, hiking, photography, and playing guitar. I work from home as a and computer programmer and enjoy the variety and flexibility that allows.

Disclosure: I received a free copy of this book/Ebook/Product to review. I was not required to write a positive review nor was I compensated in any other way. The opinions I have expressed are my own. I am disclosing this in accordance with the FTC Regulations. I am part of

The CWA Review Crew

.